지난 주에 명동에서 진행했던 Levi's 몸짱 패션쇼에 나온 모델들이 몸짱이라고요? 릴리?
Last week's "Best Body" fashion show in Myeongdong last week was supposed to be a launching party using models with the hottest bodies? Really? [HT to Korea Beat]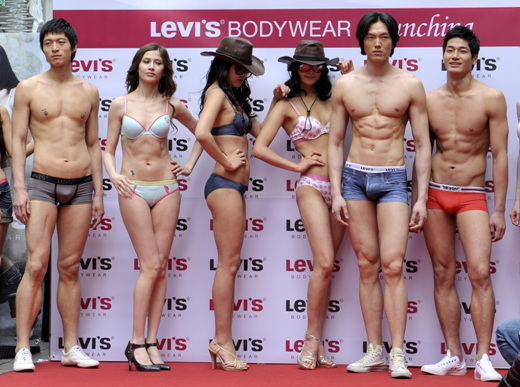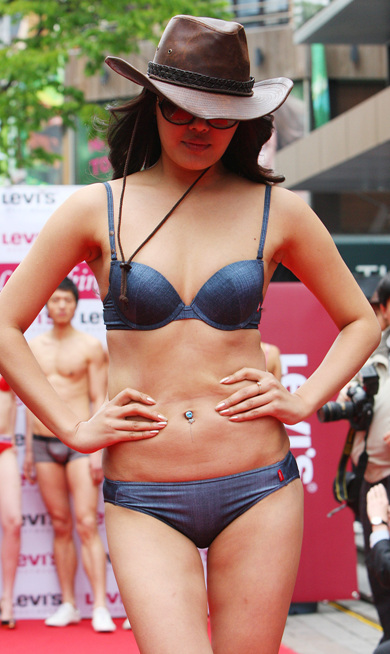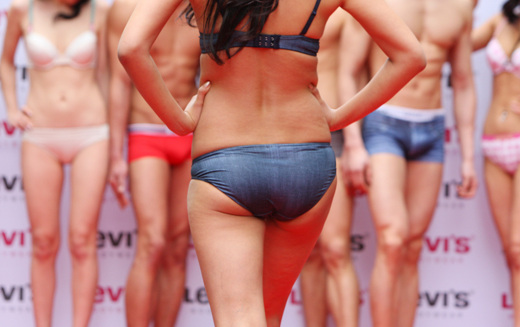 [Photo source: Chosun.com]
그럼 한국 여자모델들이 도대체 왜 카우보이 모자와 썬글래스를 쓰고 있을까? 그 건 보통 링지레이나 비키니랑 쓰는 액세서리인가? 아님 그냥 창피해서 ("결혼 못하게 되면 어떡해?!") 얼굴을 숨기면서 나와야 되는 건가? 한국이다첫째 사진에서 백인 여자 모델은 자랑스럽게 옷을 보여주고 있는데 진짜 촌스럽게 역시 한국여자 2명은 숨어있는 거네. 봐봐. 1명은 앞모습을 안보여주면서 고개를 숙이고 있고 딴 한국 여자는 옆남자뒤에 있는 거야. 혹시 이런 패션쇼를 본 적이있나요? 창피해서 런웨이에 걸어오면서 옷때문에 자기 얼굴을 못노출하는 모델? 말이 돼!? Levi's의 새로운 몸짱 랑지레에 런칭 이런바 '패션쇼'를 하면서 모델들이 창피하게 나오는 것 — 한국은 아직도 이 만큼 촌스러운 건가 아님 낮은 수준 값이 싼 도우미를 고용한 건가? Levi's — 내 생각엔 다음에 진짜 모델이나 좀 쓰세요. 시간당 15,000원 몸짱도아닌 도움이 쓰면 티가 나. 진짜 촌스러워. 짜증나, 정말.
So why are the two Korean models wearing stupid leather cowboy hats and sunglasses, like they're going to rob a convenience store? Is there an Indiana Jones and bikini trend coming? They're obviously embarrassed about being in the show — "Oh my, God! What if I can't get married!?" — one of the two Korean  "models" won't show her front and is hiding her face, while the other one is hiding behind the dude next to her. Yet the foreign model is doing her job just fine. But come on –  have you ever seen a fashion show in which the model is embarrassed to show her face while wearing the clothes? What a joke. Levi's — next time you put on a show, hire some REAL models to show the clothes, instead of cheap 15,000-per-hour promotion girls from the countryside who are too afraid to show their faces while wearing the clothes you want to promote. Duh.
Share This! 퍼주세요!!!